| | | |
| --- | --- | --- |
| | Maxine Mimms Academies | |
List of Programs
Truth & Reconciliation Re-Entry Training

Drop Out Recovery Services
Intake/Assessment
Case Management

Academic Immersion

Garden of Eden: Hydroponic Technology Curriculum
STEAM - Science, Technology, Engineering, Arts and Math
College Prep and Career Path Development
Individually designed
Several Fields Of Studies

Indoor Hydroponic Farming
Featured Program: Indoor Urban Gardening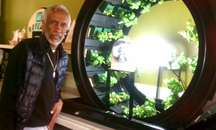 In this community agricultural initiative, students learn to grow and harvest an abundance of organic vegetables, herbs, plants, and flowers every month throughout the year. In addition to supplying abundant quality food, this initiative can lead to long-term, well-paid jobs.

Urban vertical farming reduces cost associated with transportation, packaging, spoilage, pollution, water usage, soil erosion and contamination; and eliminates the use of chemical fertilizers, pesticides, and preservatives. It is part of a new direction in food and nutrition policy that focuses on health, ecological integrity, education, training, job creation and the development of complete communities.

The program is offered in cooperation with and is managed by Garden of Eden Urban Farming.

The Academy's role in the projects is to supply training for instructors and to manage enrollment of gardening students. The curriculum is also available to organizations wishing to develop independent hydroponic gardening programs.